Come Home
Homecoming and Reunion Weekend
October 21-23, 2022
The Emeriti Club Gathering and the Citation of Merit Awards Program will take place on Saturday, October 22 from 11:30 a.m.-1 p.m. in the Banquet Room of the Weimer K. Hicks Center.
---
Registration is Open!
Register for Homecoming – October 21-23, 2022
---
Emeriti Reunion Planning Committees
Emeriti Club Gathering and Citation of Merit Awards Program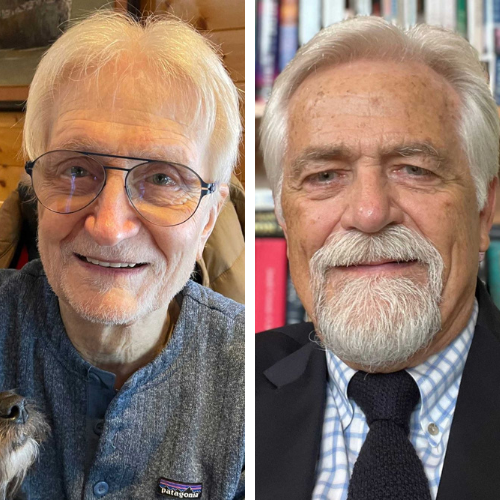 Day: Saturday, October 22, 2022
Time: 11:30 a.m.-1 p.m.
Location: Banquet Room, Weimer K. Hicks Center
Emeriti alumni are invited to attend a luncheon that honors class years prior to 1972. The program will include an Emeriti Club Leadership Council update, given by the current President, Donna (Reed) Lambert '64. After lunch, a plaque will be presented to the 2022 Citation of Merit Award recipients, Bruce Benton '64 and Harold Decker '67.
Parking: Off campus parking and a shuttle service will be available at 11 a.m.-1:30 p.m. from St. Thomas More Catholic Student Parish (421 Monroe Street) to the Weimer K. Hicks Center. Please note that this shuttle service is for the luncheon only. Cars will need to be removed from the parking lot by 3 p.m. to allow church members space to park for their evening service.
Nominations: The Emeriti Club Citation of Merit honors those who have demonstrated affection for the College by their loyalty and involvement in the activities and programs of Kalamazoo College. Nominate a classmate for the award today!
Visit the Emeriti Club Citation of Merit page for past recipients and questions with Bruce and Harold.
Ways to Connect
See Who's Coming from the Emeriti Club
Homecoming News
2022 Award Recipients & Athletic Hall of Fame Inductees
Check out this year's list of recipients for Alumni Association Awards, Citation of Merit Awards, and Athletic Hall of Fame inductees!
---
Alumni Association Awards Ceremony
Attend the Alumni Association Awards Ceremony to celebrate the Alumni Association Award Recipients and the Athletic Hall of Fame Inductees
Date: Friday, October 21
Time: 7:30-9 p.m.
Location: Dalton Theatre, Light Fine Arts Building