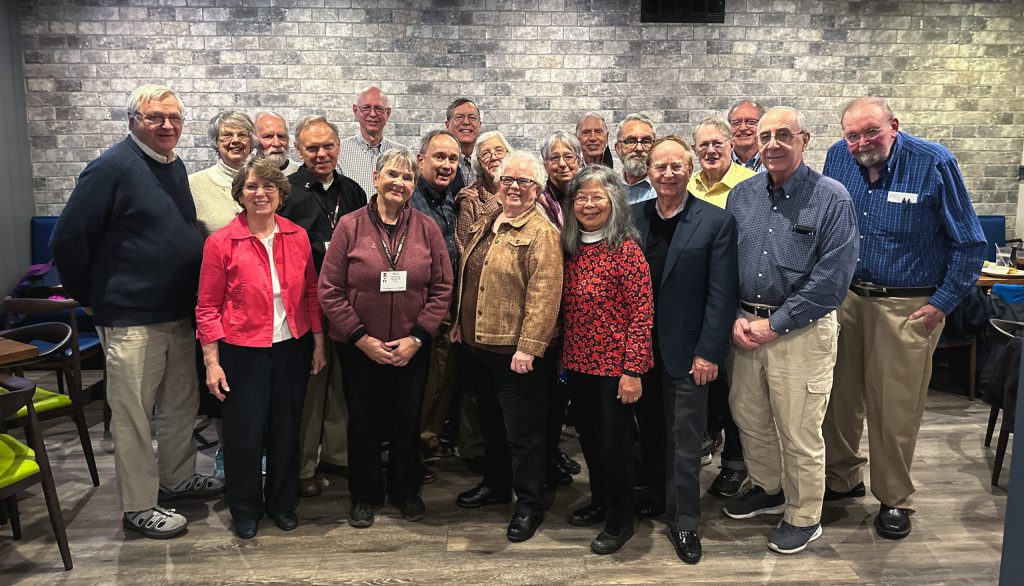 ---
Kalamazoo College Delmega Society
---
Most active at K in the 1950s and 60s the Delmega Society was organized by students as an intellectually-focused group that attracted mostly math and science majors. The "societies" at K were primarily literary, intellectual or social in nature intended to create a sense of belonging among students. They dissolved in the early 1970s.
---
Registration is Open!
Register for Homecoming – October 21-23, 2022
---
Delmega Society Gathering
We're looking forward to seeing you during this year's Homecoming and Reunion Weekend from October 6-8, 2023!
Details about this year's Delmega Society Gathering will be shared as plans are confirmed.
Delmega Society Gathering
Please join the Delmega Society for a gathering at the University Roadhouse!
Day: Friday, October 21, 2022
Time: 6 p.m.
Location: University Roadhouse, 1332 West Michigan Avenue
Food and beverages will be available to purchase.
Photo: A Delmega Society group photo will be taken at 7 p.m. on Friday, October 21 at the University Roadhouse.
Delmega Society Gathering Contact
Richard "Dick" Locke '66
lockerw@usfamily.net
Additional Information for the Delmega Society
See Who's Coming from the Delmega Society!
Emeriti Club – The Golden Hornets

The Emeriti Club is an alumni organization for members of classes who graduated from Kalamazoo College 50 or more years ago.
Citation of Merit Award

You, as an Emeriti Club member are encouraged to nominate fellow members to receive a Citation of Merit Award. Please use the online nomination form, or print and send a form to the Office of Alumni Engagement anytime throughout the year. Please provide as much information as possible about the nominee.

Criteria for the selection of citation recipients are as follows:
Extent of alumni activity and involvement
Outstanding professional experience
Level of civic, church, school, and/or community service involvement
Continued support of the College
Length of time attended Kalamazoo College
All alumni of Kalamazoo College who matriculated in classes 50 or more years ago and attended six or more terms are eligible for nomination.
The Emeriti Club Leadership Council meets in the spring to consider the nominees and select the citation recipients. Nominees not selected are kept for future consideration.
Connect with other Emeriti Club Members

Want to connect with other Golden Hornets? Learn more about Emeriti Club gatherings during Homecoming!
Homecoming News
2022 Award Recipients & Athletic Hall of Fame Inductees
Check out last year's list of recipients for Alumni Association Awards, Citation of Merit Awards, and Athletic Hall of Fame inductees!
---
Alumni Association Awards Ceremony
Attend the Alumni Association Awards Ceremony to celebrate the Alumni Association Award Recipients and the Athletic Hall of Fame Inductees
Date: Friday, October 6, 2023
Time: 7:30-9 p.m.
Location: Dalton Theatre, Light Fine Arts Building